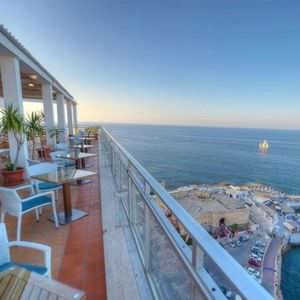 Needs a thorough refurbishment…
My wife and I recently stayed in the Diplomat Hotel in Sliema whilst on a tour of Malta with Saga Holidays.
Although the Diplomat is well situated, I was rather surprised that Saga associates itself with this hotel.
In my opinion, it is very "tired" and needs to be dragged kicking and screaming into the 21st. Century.
The decor throughout is very drab and in desperate need of refurbishment. The restaurant is on the lower level, with no natural light, which makes it seem extremely claustrophobic. Loud, inane music is played throughout each meal.
Although a cooked "English" breakfast was available each morning, I found it to be cold, despite being amongst the first to arrive at the buffet. The evening meal reminded me of the" School Dinners" of my youth, poorly presented and very unappetising in appearance. That said, the restaurant staff were excellent in promptly bringing drinks to our table and clearing away used plates etc. The lifts were a constant cause of frustration as they travelled so slowly and we had to wait ages for them to arrive.
On one occasion a lift arrived complete with a cleaners' unaccompanied trolley.
Do not expect too much regarding Wi-Fi. It is very poor even when sitting immediately opposite the reception desk. Tip… Sit close to the office…
I had to ask our Tour Manager to request the housekeeping staff change the mattress on my bed as I kept rolling to one side. The replacement was no better as it had a deep depression along its length. Well, at least I did not roll off!!
I am sure there must be superior hotels nearby which Saga could have used.
The only saving grace of the Diplomat is its location, nothing more.